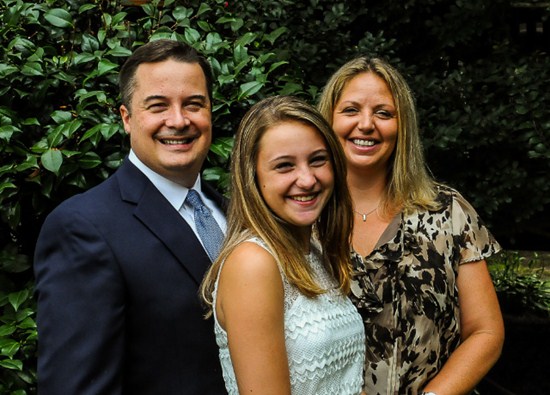 I have lived my entire life as a proud Maryland resident. I am happily married to my wife of over 24 years, Erika, and I am a proud father of a daughter that graduated from Southern High school in 2016. I am proud to say that for over 17 years I have owned a successful small business in Anne Arundel County that has provided jobs and supported our local economy. I fully understand the negative impacts that poor tax policy and overburdensome regulation has on the creation of jobs and successful business.
As your delegate, your economic prosperity is one of my highest priorities. I believe that in order to create a more successful future we must make Maryland more business friendly. How can we do that? By providing a stable business climate, reducing regulation and ensuring that our local businesses have the necessary infrastructure they need to help them grow.
I believe our children are our future heritage. In order to better prepare our students for long term career opportunities we must continue to strengthen and support our school system. We must also provide long term educational opportunities for you and your children so that you, and they, will have greater opportunities for future economic success.
As your delegate, I have continued to build partnerships in the state and local governments to provide a framework for these opportunities to happen.
Citizens to Elect Seth Howard
P.O. Box 272
Churchton MD 20733
(C) 443-831-9508
News
Monday, August 8, 2022 3:08 PM
8th Annual Seafood Feast
Click the link below to get you tickets now!
https://secure.anedot.com/sethhoward/c23d1ed48e40b6746ad70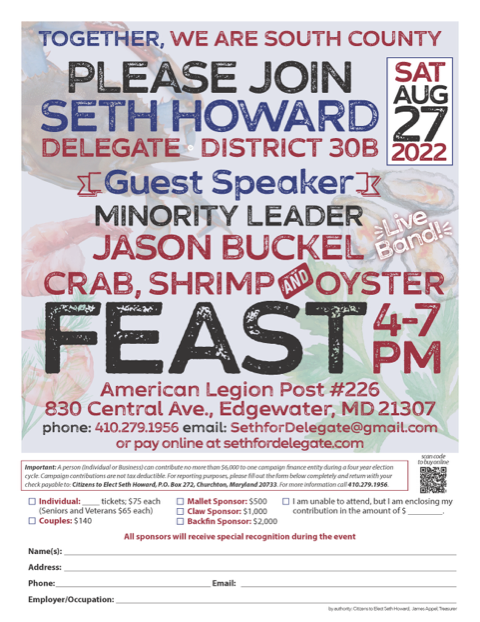 ---
Monday, June 18, 2018 5:39 PM
NFIB National Federation of Independent Business Endorses Delegate Seth Howard
I am extremely excited to announce that I have been officially endorsed by the National Federation of Independent Business!
"As the voice of small business, NFIB knows good policy starts with electing good small business candidates. Therefore, your re-election is critical to the small businesses in your district. We are excited about your candidacy and eager to support it." - Mike O'Hallron, MD State Director, NFIB

---
Wednesday, June 13, 2018 2:03 PM
Gov. Hogan Endorses Delegate Seth Howard
I am very proud to announce that I have been officially and fully endorsed by Governor Larry Hogan. Governor Hogan says "Delegate Seth Howard is a proven leader! During his term he has sponsored landmark legislation to help combat the opioid epidemic, aid our waterman, seniors, farmers, small businesses, and improve local schools for our children. He is a true friend to his constituents, maintaining an open door policy and always fighting to preserve the rural nature of South County. He feels that his legislative office is the 'people's office.'"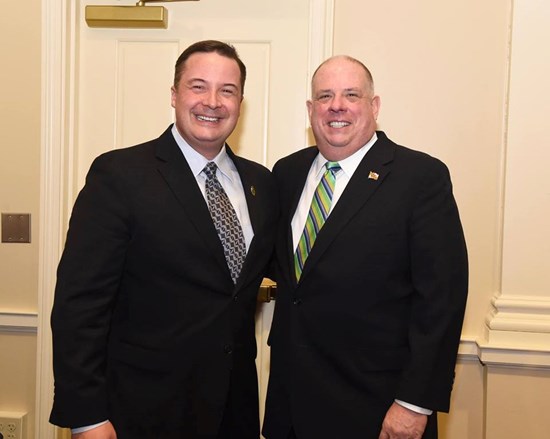 ---
Thursday, June 7, 2018 10:48 AM
Endorsed by the NRA
I am proud to announce that I have again been officially endorsed by the NRA!

---
Monday, June 4, 2018 1:28 PM
MRA Names Delegate Howard as Legislator of the year
Today I was humbled and honored to learn that I have been named Legislator of the Year by the Maryland Retailers Association!
"Our local businesses provide good paying jobs that benefit our SoCo communities and our great state of Maryland, It is a pleasure and honor for me to fight for them!" - Seth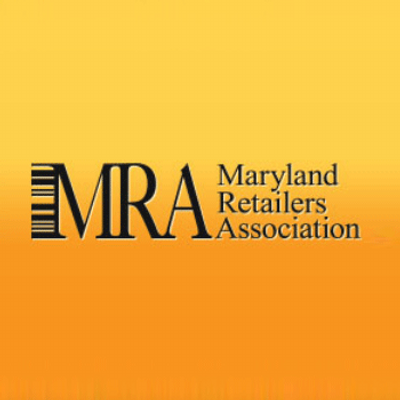 ---
Monday, June 4, 2018 1:23 PM
I have been officially endorsed by the Maryland Farm Bureau
I am honored to announce that I have been officially endorsed by the Maryland Farm Bureau!
"Our farms provide fresh foods that increase the health of our community and help preserve open space. South Counties rural nature and beauty are our gift to Maryland and I'll fight to keep it that way" - Seth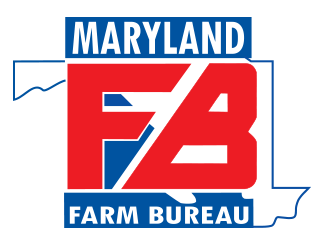 ---
Thursday, October 13, 2016 6:20 PM
100% Rating from MBRG Roll Call
It is an honor to have been awarded a 100% rating from Maryland Business for Responsive Government.
"Roll Call is Maryland's only non-partisan report card on how Maryland's General Assembly voted on issues important to creating jobs in Maryland. Holding elected officials accountable for Maryland's economic development climate, MBRG has been publishing Roll Call for over a quarter of a century. Votes included in Roll Call are selected by a non-partisan State Advisory Council, representing a broad spectrum of industries essential to a robust economy. The issues selected to be included are those that are fundamental to job creation and promoting a healthy business climate in Maryland." - MBRG
---
Thursday, October 13, 2016 6:02 PM
2 yrs in a row!
I am humbled and honored to have been named a legislative All Star by the Maryland Retailers Association for the second year in a row!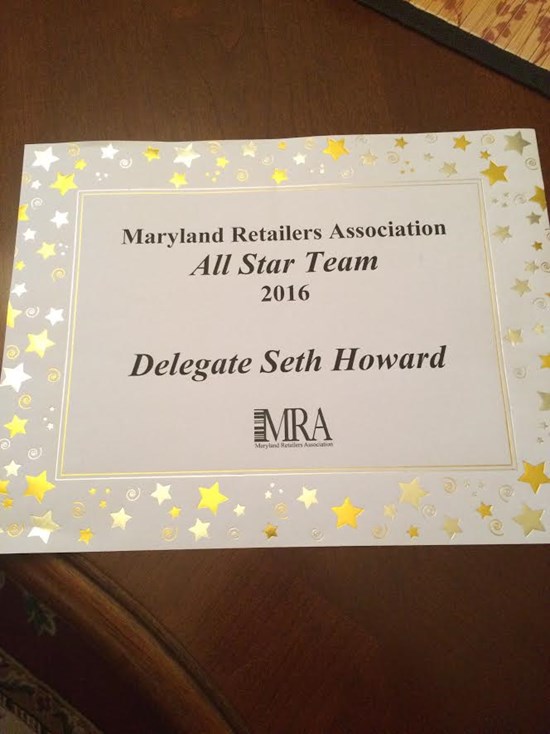 ---
Tuesday, August 16, 2016 11:29 AM
2016 End of Session letter
2016 End of Session Review

The 436th legislative session of the Maryland General Assembly drew to a close at midnight on April 11th, 2016. The now second session of my four year tenure was an intense one, but rest assured I spent the ninety days fighting for your interests in Annapolis.

As a reminder, I serve on the Economic Matters Committee and three subcommittees within it. The Economic Matters Committee considers legislation relating to alcoholic beverages, banks and other financial institutions, business regulation, including related occupations and professions, commercial law, corporations and associations, economic development, electronic commerce, labor and employment, property and casualty insurance, unemployment insurance, utilities regulation including electric, gas, and telecommunications, as well as workers' compensation.

As a business owner, being a member of the Economic Matters Committee has allowed me the opportunity to be entrenched in every detail of the legislation that has a direct impact on the economic and business development of the state.

BUDGET

For the second year in a row, Governor Hogan produced a structurally sound, fiscally responsible budget that reflected historic investments in our great state. The budget included $6.3 billion for public education, in addition to $330.8 million for school funding. Higher education was not forgotten - Maryland's universities will be receiving increased funding as well.

The Governor also included money for workforce development and the environment. The budget included over $50 million for job training programs and unemployment assistance in Maryland's 12 Workforce Investment Areas. This money will also go towards promoting economic development. With regards to the environment, the budget will provide a historic amount of $53 million toward the Chesapeake and Atlantic Coastal Bays 2010 Trust Fund, which happens to be the highest amount of funding provided since the trust's establishment. In addition, the budget will retain $60 million for Program Open Space as well as additional land preservation programs over the next two years.

Despite there being some partisan arguments this year, the budget was a great example of what the General Assembly can do for the people of Maryland. And once again, the General Assembly met for an entire session without introducing any new taxes!

EDUCATION

One of the big issues this session was the amount of time our children are spending preparing for and taking standardized tests, time that should be spent in actual instruction and development of skills. While it is important to have standards and measure achievement, the current system is not in our children's best interests.

HB 657-Education-Prekindergarten and Kindergarten Assessments-Administering limits the application of the Statewide Kindergarten Assessment. The bill provides that only a random sample of Kindergarten students in each jurisdiction take the test. It also exempts Pre-Kindergarten students from taking the test, unless it is being administered to determine a learning disability. This bill passed the House and Senate unanimously.

HB 141-Education - Assessments - Limits on Testing requires the State Board of Education to adopt regulations that set a 2% cap on the amount of instructional time that can be devoted to mandated testing. This cap will not apply to teacher-selected classroom quizzes and exams. This bill unanimously passed the House, but did not move in the Senate.

MY LEGISLATION

Here are some examples of legislation I introduced this year. Not all of it passed, but I am nonetheless proud of it and fully intend to bring much of it back next year.

HB 1429-Group Home Residential Rights Protection Act will track valuable information regarding residents of sober living homes around the state. This information will be useful in determining statistics pertaining to usage of group homes to ensure that they are as effective as possible.

HB 673-Higher Education-Senatorial and Delegate Scholarships-Veterans and Out of State Schools will provide a way for veterans not currently stationed in Maryland to get in-state tuition benefits. The veteran must be domiciled in Maryland so as not to take advantage of the program.

HB 1336-Estates and Trusts-Notice Requirement-Alteration (requested by the Register of Wills) changes the mailing requirements for Estates & Trusts from a 3rd notice certified mail to a 3rd notice regular mail. Passed the House.

HB 614-General Provisions-Commemorative Days-Watermen's Day requires the Governor to annually proclaim a certain day as Watermen's day. This day is designated as the last day of winter every year.
HB 638-General Provisions-Commemorative Days-Farmer's Day requires the Governor to annually proclaim a certain day as Farmer's Day. This day is designated as the last day of spring every year.

HB 660-General Provisions-Commemorative Days-Equestrian Day requires the Governor to annually proclaim a certain day as Equestrian day. This day is designated as Maryland Pride Day on the third Saturday in August.

HB 321-Anne Arundel County-Archery Hunting-Safety Zone establishes for archery hunters in Anne Arundel County a safety zone of 50 yards from a dwelling house, residence, church, or any other building or camp within which archery hunting may not take place except under specified circumstances. Passed in the House and in the Senate.

MY CO-SPONSORED LEGISLATION

I am also proud to say that I co-sponsored many pieces of legislation, such as the bills below.

HB 480- Creation-Anne Arundel County-Arundel Volunteer Fire Department Community Center
HB 586- Retire in Maryland Act of 2016
HB 718- Consumer Protection-Asset Recover for Exploited Seniors Act
HB 780- Income Tax Checkoff-Maryland Veterans Trust Fund
HB 1209- General Assembly-Limitation of Terms
HB 324- Education-Maryland High School Diploma-Civics Test Requirement
HB 618- Creation-Anne Arundel County-William Brown House at Historic London Town
HB 915- Tidal Fish License-Catching Crabs Using Trotline Gear-Holidays
HB 1380- Creation-Anne Arundel County-YWCA Domestic Violence Safe House Shelter
HB 68- Criminal Law-Impersonating a Military Member-Penalties (Stolen Valor Act of 2016)

SUMMARY

The vision to Change Maryland is alive and well in the General Assembly. I, alongside my colleagues, am working very hard to ensure that fiscal responsibility and common sense is brought to every decision in the House of Delegates. This year, we had some hard fights, but nonetheless it was a very successful session. Thank you for allowing me to serve as your Delegate. I am very honored to represent the people of District 30B each and every day.

Your input is always welcome and please do not hesitate to contact my office with any issues that concern you. It is citizens like you that help make my job at the General Assembly easier. Remember, Together We are South County!

Warm Regards,

Delegate Seth A. Howard
Legislative District 30B

P.S. If you would like more information about what is going on at the legislature or want to check on issues important to you, please visit the Maryland General Assembly website at http://mgaleg.maryland.gov/webmga/frm1st.aspx?tab=home. You can also friend me on Facebook athttps://www.facebook.com/SethForDelegate?fref=ts or follow me on Twitter at https://twitter.com/sethfordelegate
---
Tuesday, September 30, 2014 12:00 AM
---
Saturday, May 24, 2014 11:50 AM
Check out my latest article in The Capital.
---
Tuesday, February 25, 2014 5:01 PM
My message of fighting for our South County Families, our South County Businesses, our South County Environment and our South County Education is the same today as it was four years ago and it will be the same message I take to Annapolis as your Delegate in November 2014!
---
Monday, February 24, 2014 4:23 PM
---
Tuesday, February 18, 2014 12:00 AM