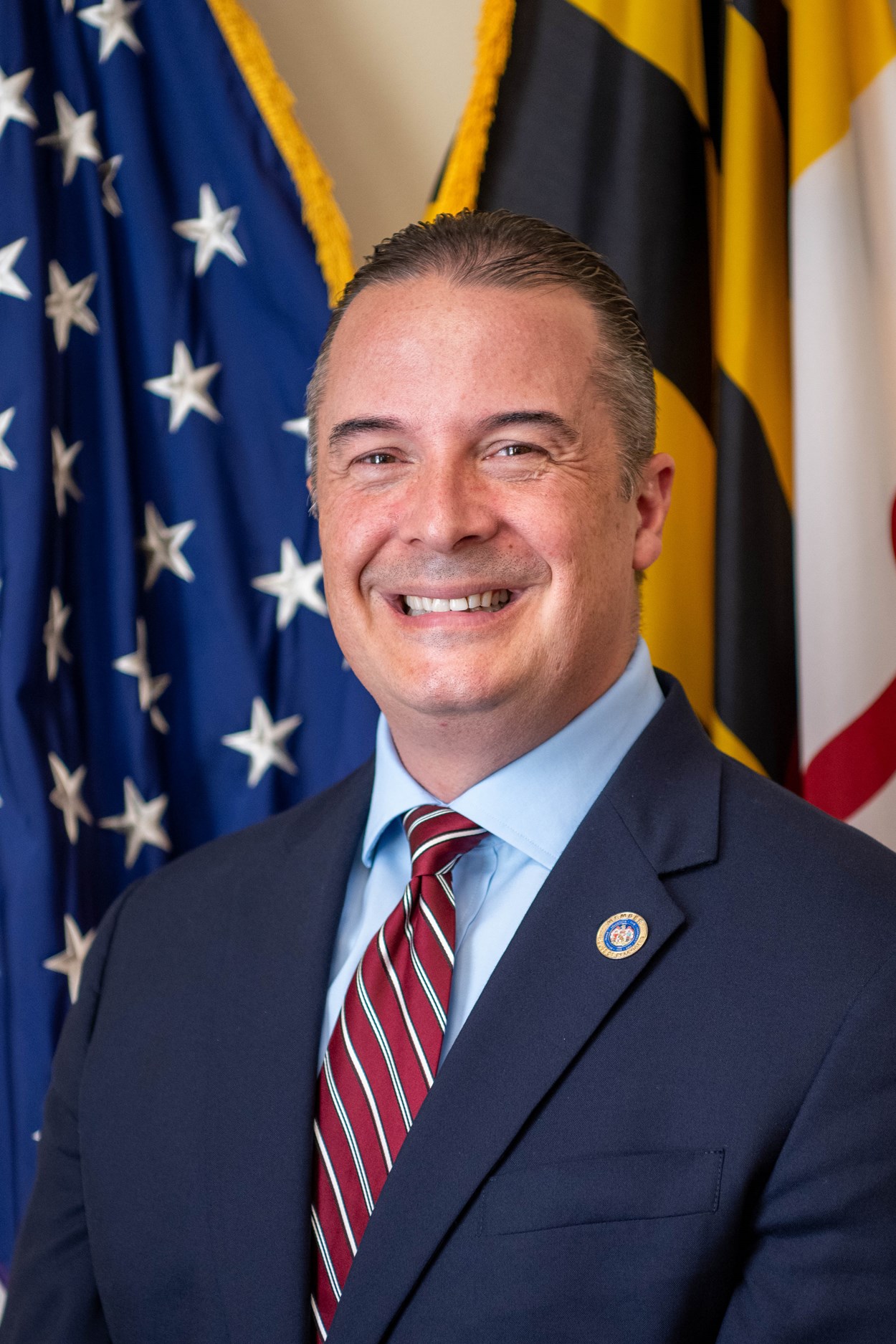 Seth Howard: Why I'm running for Delegate in District 30B
I am grateful to the voters of District 30B for electing me as their State Delegate four years ago. Representing you has been the honor of my life.
When I ran four years ago, I heard from constituents who were planning to leave Maryland because of the high tax burden and anti-business environment. Many others felt that South County had been forgotten—no more.
In these polarized times, it is easy to think of the other party as the enemy. The reality I have found, however, is different. Whether democrat or republican, we share many of the same goals: end the opioid epidemic; improve our schools; increase teacher pay; strengthen the economy; protect our environment and keep more money in our constituent's pockets.
As Republicans and Democrats we certainly have different philosophical approaches to attaining those goals. But we are not enemies.
Some may think that freshman Delegates are expected to be seen and not heard. But that's not why you elected me. So I spoke up, and found opportunities to make a positive impact for you. Over the past four years, 5 bills I sponsored became law, as did 60 bills I co-sponsored.
I am proud to have worked across the aisle to pass landmark bipartisan legislation to combat the opioid crisis, this legislation will help ensure a more speedy and successful recovery for drug users who are seeking help and want to return to being a productive member of society.
I believe our children are our future heritage, that's why I was honored to support the "Fix the Fund Act," which ensures that revenues from casinos will go directly into our classrooms and give our teachers much deserved pay raises.
As your Delegate I have fought for investments in our local infrastructure to enhance your quality of life, to include major road improvements and complete resurfacing of Rt-408, Rt-261, Rt-2; a major resurfacing on Rt-258; and resurfacing on Rt-256.
Our waterways are the lifeblood of South County, that's why I was delighted to work directly with Governor Hogan, The Army Corp of Engineers, the Maritime Association, Maryland Department of Environment and many other State Agencies to secure funding for five major dredging operations in our South County Waterways. Some of these projects- like Parkers Creek -have been completed while more projects will be completed in FY19.
But there is still much to do. If re-elected, I will sponsor legislation to eliminate state taxes on retirement income so our seniors can stay in the homes and communities they built, continue to fight the opioid epidemic, continue to hold criminals accountable for their actions, ensure our classrooms are safe and protect the rural nature and beauty of South County. To do anything else would be a U-turn from the positive direction our citizens demand.
I humbly ask for your vote to remain as your Delegate for District 30B.
Recent News
Thursday, August 25, 2022 12:53 PM
New Living Shoreline at Franklin Point State Park
Yesterday I was happy to attend the BPW meeting and support the approval of a living shoreline at Franklin Point State Park. The measure was voted on and unanimously approved.

This request will provide a $1,461,717.54 grant from DNR from the Resiliency through Restoration Initiative to Arundel Rivers Foundation to construct a 1,060 linear foot living shoreline with breakwater and sill features along the Chesapeake Bay at Franklin Point State Park to enhance natural buffers and stabilize the existing peninsula.

This project will protect existing green infrastructure, buffer adjacent residential infrastructure, and provide water quality and habitat co-benefits. This Initiative was developed to address escalating risks to Maryland communities and public resources from extreme weather and climate-related events.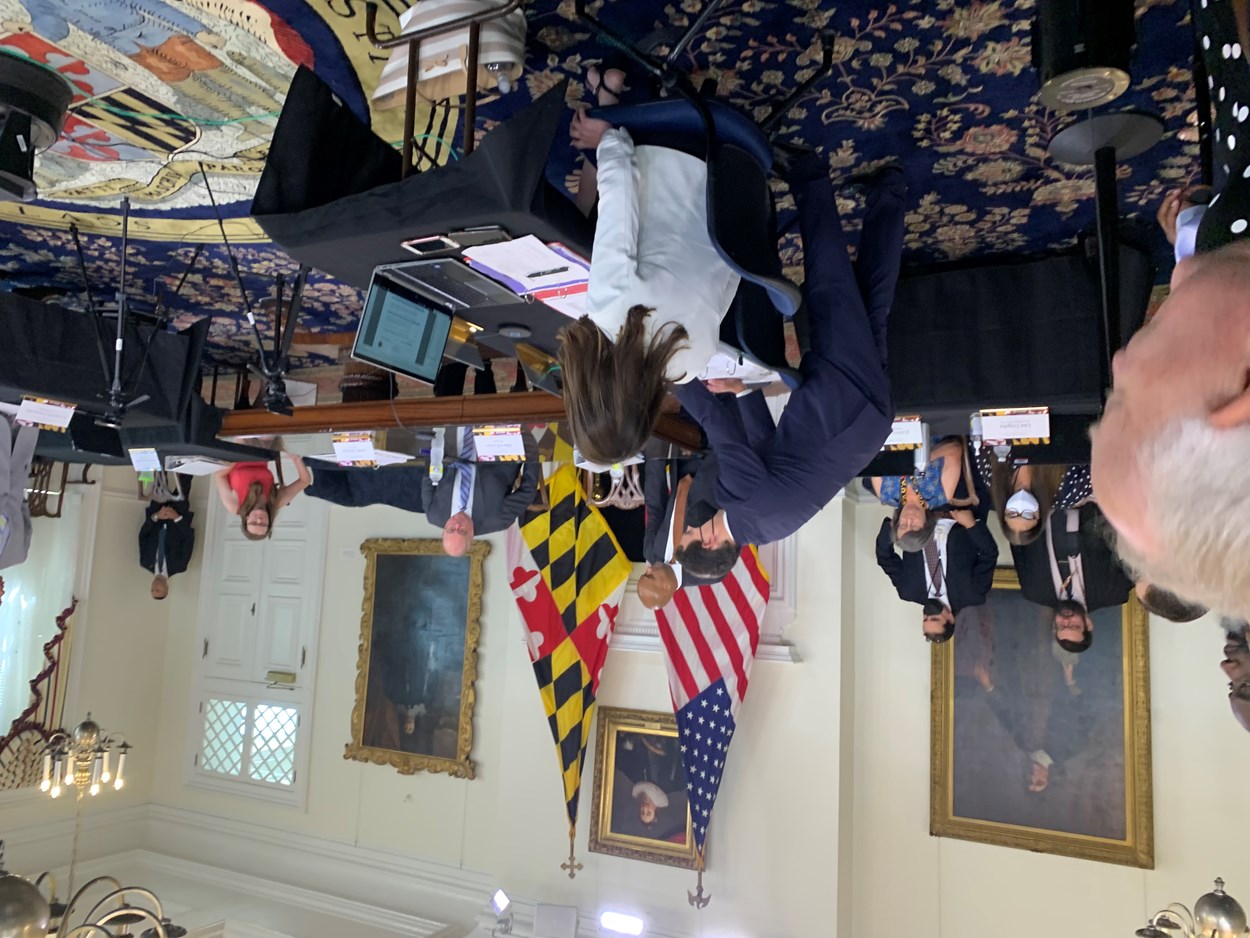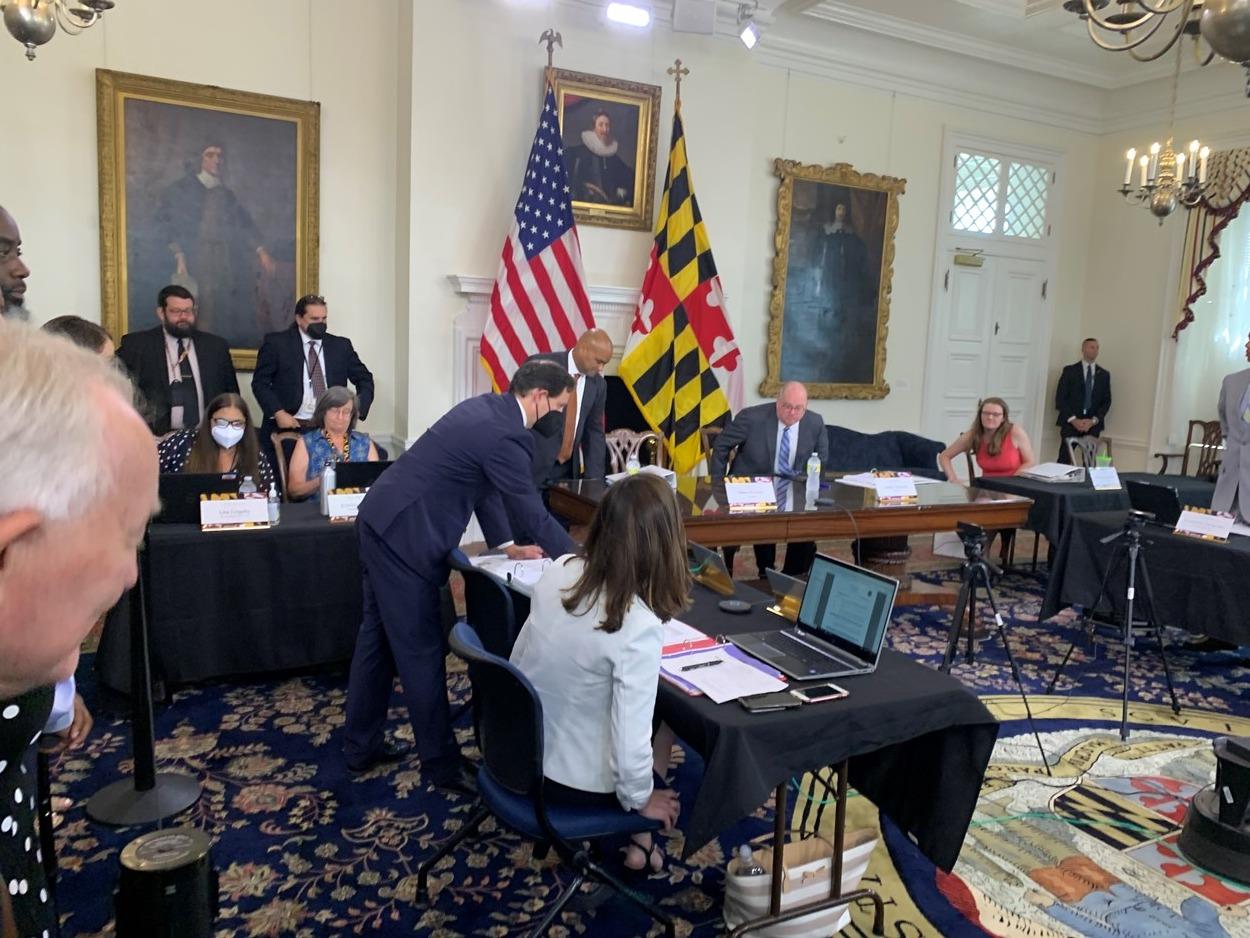 ---
Sunday, July 17, 2022 1:06 PM
I am honored and humbled beyond words!
Yesterday, I had the unique privilege of being honored by the American Legion Department of Maryland as one of their top legislators of the year. This is an incredible honor and, as Delegate, I look forward to continuing to work with my fellow veterans on the legislative issues that are important to them and their families.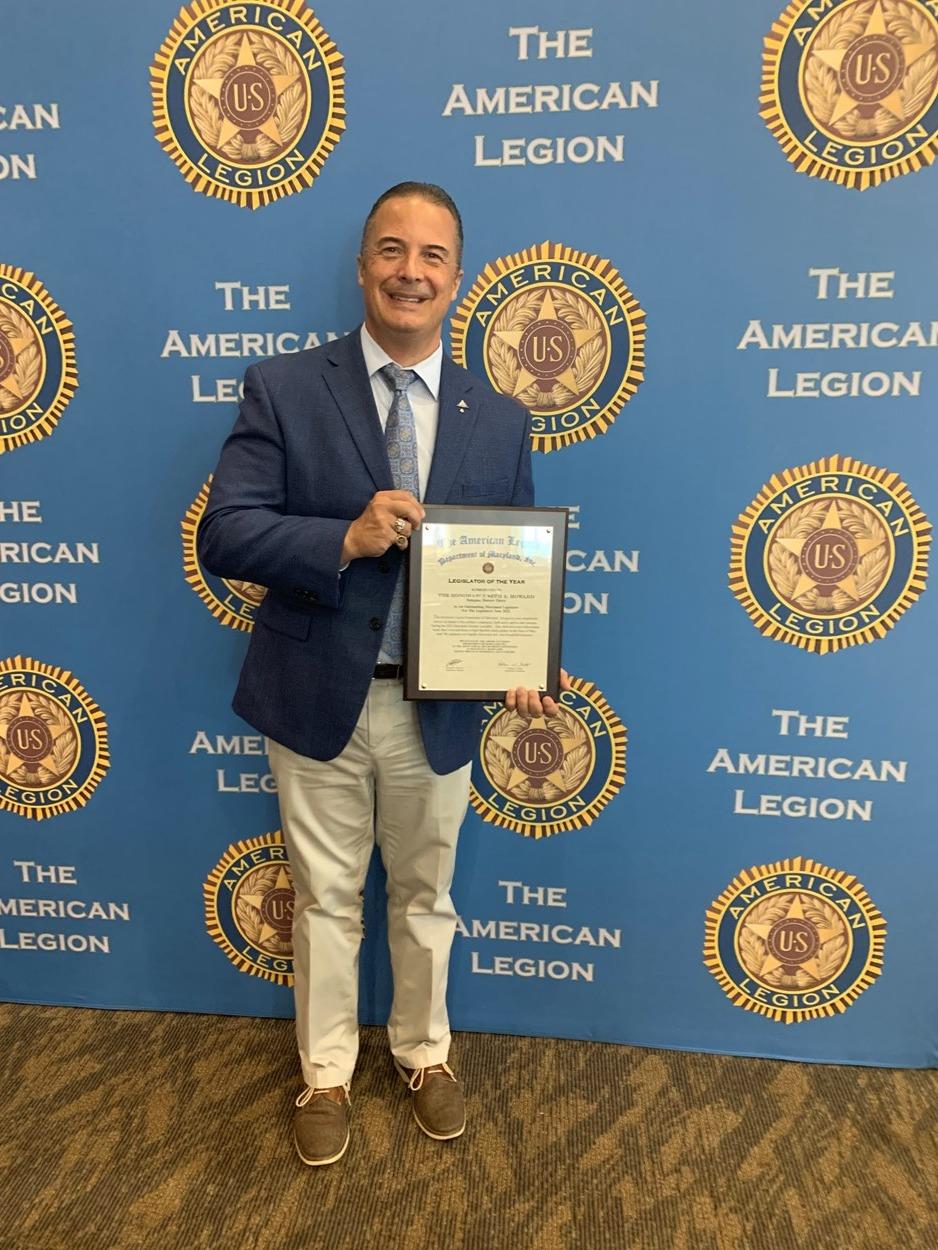 ---
Monday, June 18, 2018 5:39 PM
NFIB National Federation of Independent Business Endorses Delegate Seth Howard
I am extremely excited to announce that I have been officially endorsed by the National Federation of Independent Business!
"As the voice of small business, NFIB knows good policy starts with electing good small business candidates. Therefore, your re-election is critical to the small businesses in your district. We are excited about your candidacy and eager to support it." - Mike O'Hallron, MD State Director, NFIB

---
Wednesday, June 13, 2018 2:03 PM
Gov. Hogan Endorses Delegate Seth Howard
I am very proud to announce that I have been officially and fully endorsed by Governor Larry Hogan. Governor Hogan says "Delegate Seth Howard is a proven leader! During his term he has sponsored landmark legislation to help combat the opioid epidemic, aid our waterman, seniors, farmers, small businesses, and improve local schools for our children. He is a true friend to his constituents, maintaining an open door policy and always fighting to preserve the rural nature of South County. He feels that his legislative office is the 'people's office.'"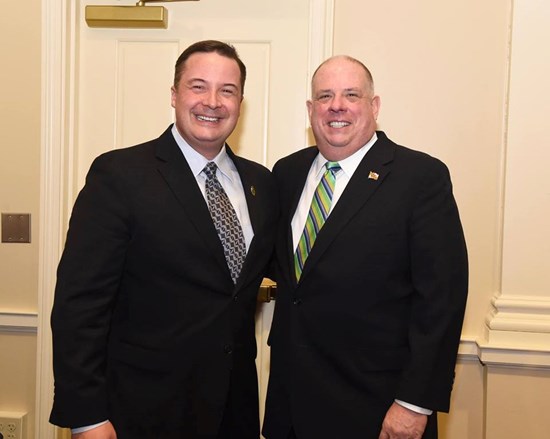 ---
Thursday, June 7, 2018 10:48 AM
Endorsed by the NRA
I am proud to announce that I have again been officially endorsed by the NRA!

---
Monday, June 4, 2018 1:28 PM
MRA Names Delegate Howard as Legislator of the year
Today I was humbled and honored to learn that I have been named Legislator of the Year by the Maryland Retailers Association!
"Our local businesses provide good paying jobs that benefit our SoCo communities and our great state of Maryland, It is a pleasure and honor for me to fight for them!" - Seth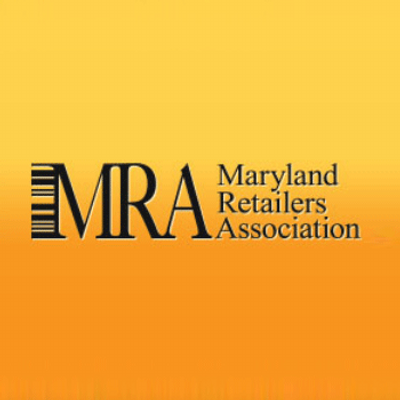 ---
Monday, June 4, 2018 1:23 PM
I have been officially endorsed by the Maryland Farm Bureau
Once again I am honored to announce that I have been officially endorsed by the Maryland Farm Bureau for the upcoming 2022 election!
"Our farms provide fresh foods that increase the health of our community and help preserve open space. South Counties rural nature and beauty are our gift to Maryland and I'll fight to keep it that way" - Seth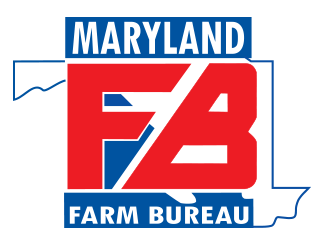 ---
Thursday, October 13, 2016 6:20 PM
100% Rating from MBRG Roll Call
It is an honor to have been awarded a 100% rating from Maryland Business for Responsive Government.
"Roll Call is Maryland's only non-partisan report card on how Maryland's General Assembly voted on issues important to creating jobs in Maryland. Holding elected officials accountable for Maryland's economic development climate, MBRG has been publishing Roll Call for over a quarter of a century. Votes included in Roll Call are selected by a non-partisan State Advisory Council, representing a broad spectrum of industries essential to a robust economy. The issues selected to be included are those that are fundamental to job creation and promoting a healthy business climate in Maryland." - MBRG